A lot has changed There has been a dramatic improvement in technology (think internet of things, cloud technology, and artificial intelligence), providing consumers with convenience and efficiency. Smartphones and tablets have become increasingly popular among consumers due to their instant gratification and ease of use.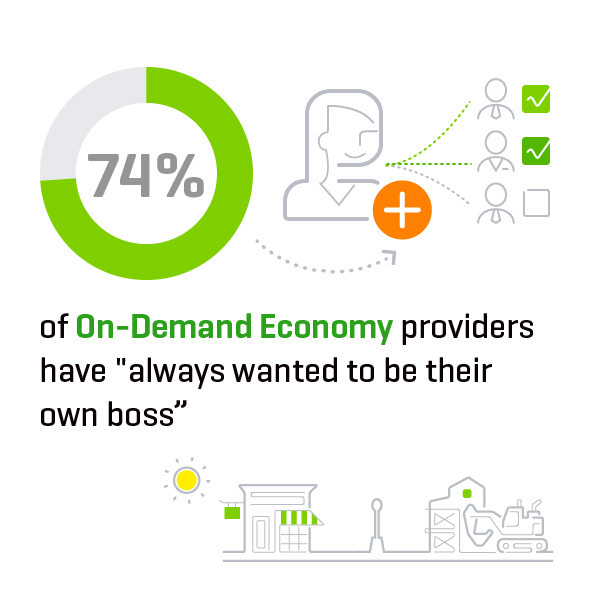 On-demand services refers to businesses that offer products or services literally on-demand. It is a term used to describe businesses in the new era of on-demand. In the last ten years, delivery services and transportation platforms have revolutionized the ways sellers and buyers connect. 
The on-demand services is poised for growth as technology advances and remote cultures flourish.  Taking a closer look at trends can help us understand what's going on.
On-Demand Services Trends
On-demand services are used by 86.5 million Americans (or 42% of the young population). Over half of those who use on-demand services are under 35 years of age, which is increasing. 
On-demand apps were also significantly used during the pandemic. Consumers were forced to order products and services through on-demand applications due to quarantines and closures. There was an increase of 120%-200% in the number of people downloading food delivery apps.
Businesses Making a Name for themselves in the On-Demand Services
With more than 10,000 cities offering on-demand rides, Uber is disrupting the transportation industry. Takeout food can be ordered from a variety of restaurants using GrubHub and Instacart, food delivery apps. As many restaurants closed during the pandemic and relied on food deliveries to stay open, these companies saw massive sales increases. Recent years have seen many consumer goods companies gain customers, including Instacart, Walmart Grocery, and Shipt.
Why Do On-Demand Services Have Tremendous Popularity?
Consumers choose on-demand service providers for a variety of reasons. Here are some of the most significant ones.
Convenience 
It's been true for years that consumers want their products and services to be delivered quickly. Considering Netflix's success, Blockbuster went out of business while Netflix is now worth around $300 billion. Streaming of films and television shows is possible anywhere and anytime with Netflix. You don't need to drive anywhere, and there are no late fees.  
There is a similar reason why Uber has grown so rapidly. There are many advantages to using it over ordering a taxi, including convenience (and pleasantness). A similar streamlined experience is offered by on-demand grocery and food services.
Variety
The availability of a greater variety is also one of the benefits of on-demand services. A wide range of books are available to you right away through eBooks and audiobooks. Online ordering or borrowing from a library doesn't take two weeks. A vast array of restaurants can be found on GrubHub and a wider range of movies can be found on Netflix. Since technology has advanced, the average consumer has access to a wide variety of products and services that were not available even five or ten years ago.
Flexibility
Consumers benefit from the on-demand services, but workers also benefit from its flexibility. Schedules can be adjusted according to the worker's needs and they are able to gain the freedom they always wanted. Those who have worked eight-hour shifts at a store or plant or been locked in a cubicle can benefit greatly from this. Food delivery and transportation services are among the on-demand services many workers now perform as full-time jobs or side gigs.  
What Are the Requirements for On-Demand Services to Succeed?
Companies need the right people, procedures, and technologies to succeed in on-demand services. For on-demand services to continue achieving their aims there are a number of things they must accomplish.
1. Perfect the user experience.
Any obstacles to users signing up and using the service must be removed. To increase usability and retention, constantly innovate and improve the user experience. Building a remote customer support team to address all of your customers' queries and problems is another creative idea.
2. Ensure that each touchpoint is optimized.
For on-demand services to provide unique user experiences across all channels, the strategy must be highly tailored. This entails connecting all of the company's platforms and resources and showing customized communications across all of the marketing channels.
3. Keep up to date on current trends.
A record number of competitors are joining the market. To be competitive, on-demand services must thoroughly investigate their rivals and keep up of emerging technologies and customer trends.
4. Make your ideal selling points
For companies to remain relevant in the market of today, they must set themselves apart from the competition and keep inventing.
5. Utilize automation and AI.
To enhance the user experience, on-demand services must act rapidly and evaluate a lot of data. While automating several procedures in numerous domains, AI and automation perform a great job of enhancing the quality and productivity of the business.
The on-demand services will endure.
The on-demand services are expanding quickly in all industries. Sales are even higher than they were prior to the pandemic, and businesses are facing more hurdles due to the complexity of technologies and the level of competition.
On-demand services are extremely popular with customers due to their convenience, variety, and flexibility. And to stay competitive, on-demand businesses must concentrate on providing a fantastic customer experience, following the newest trends, and establishing their unique selling propositions. To outperform their rivals, they should also leverage automation, machine learning (ML), and artificial intelligence (AI) while establishing remote customer service teams.
Conclusion
This blog is intended to help you in starting profitable On-demand services. Join our MySquard team for a chance to earn money if you possess any of the abilities we are seeking. Through MySquard, you can put your abilities in on-demand services. The ideal platform for enhancing your business abilities is MySquard. 
Please get in touch with us if you'd like to be a partner with us.